Hallmark Recordable Art makes great fun and great gifts
At the Mom 2.0 Summit last month, I was lucky to win one of the prizes from Hallmark. Hallmark was a sponsor of Mom 2.0 and had an adorable suite where you could send and receive cards for free. Hallmark gave me a fun Recordable Artwork Canvas Art Kit, and when I showed it to my boys the day after the conference, they wanted to start working on it pronto.
In case you can't tell, ahem, the boys recreated Butterfly World, which is what they recorded on the canvas frame. Now when I pass the canvas frame in the kitchen and push the button, I can hear them talk about their creation. Fun!
I think Hallmark Recordable Art is great. The Canvas Art Kit ($14.95) would make a fun present for that little holiday coming up where we celebrate fathers.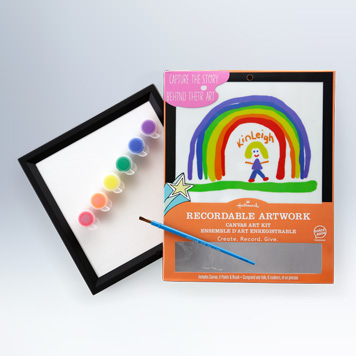 In the same Recordable Artwork line, also check out the Framed Art Card ($9.99), which is a recordable frame in turquoise or orange that holds an 8.5 X 11 size piece of paper, so your child (or you!) can create a picture or special sign, then speak a message replayed by the frame.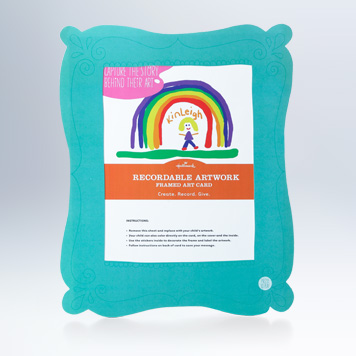 Hallmark even has a Magnetic Photo Clip frame ($9.95) that you can record with, which holds a 2 X 3 size photo or other image. The Magnetic Photo Clip comes in pink and turquoise. Can't you picture this on Grandpa's fridge?
For something really special, the "Because of You" Art Gift Book ($14.95) preserves memories in book form. Kids fill out pages and can use two pages of stickers, and record their message in the book.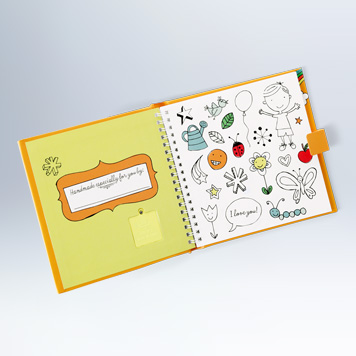 What I really like about the Recordable Artwork is that it records sound. We probably all have lots of pictures of our kids, but how many of us have recordings of what they sound like? This is another way to preserve the memory of how cute they were. Er, are. It's a keepsake for sure.